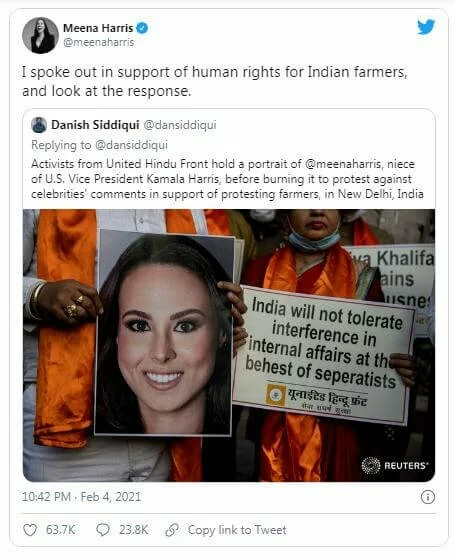 "I won't be silenced," says Meena Harris amidst protest over her tweet
"I won't be silenced," says Meena Harris amidst protest over her tweet
M
eena Harris, an American lawyer and niece of US Vice President Kamala Harris, shared a photo that showed protesters holding her picture during a protest against the international personalities who have openly spoken about and supported the farmers' agitation. "I spoke out in support of human rights for Indian farmers, and look at the response," Meena Harris tweeted on Thursday and shared a photo by Reuters journalist Danish Siddiqui. "I won't be intimidated, and I won't be silenced," she said in another tweet.
The 36-year-old who is also an author had tweeted her first tweet regarding the issue after pop singer Rihanna had shared a CNN report about the internet shutdown near Delhi borders. "It's no coincidence that the world's oldest democracy was attacked not even a month ago [a reference to the US Capitol violence], and as we speak, the most populous democracy is under assault. This is related," she had tweeted. "We all should be outraged by India's internet shutdowns and paramilitary violence against farmer protesters," she further added.
Greta Thunberg, too had said, "I still stand with farmers," after Delhi Police filed a case against her over a toolkit that she had uploaded, then deleted it saying it was outdated and further tweeted an upgraded toolkit. The Delhi Police said that the toolkit was authored by a Canada-based Khalistani outfit.